First off, I have to say that casseroles are great freezer foods. You can freeze them in a casserole dish, in a plastic bag or tupperware. They bake quickly and don't get too mushy after being frozen (Jessica might disagree with me about the rice...). Many casserole recipes are often simple: veggies, meat, can of cream of something soup. Easy, right?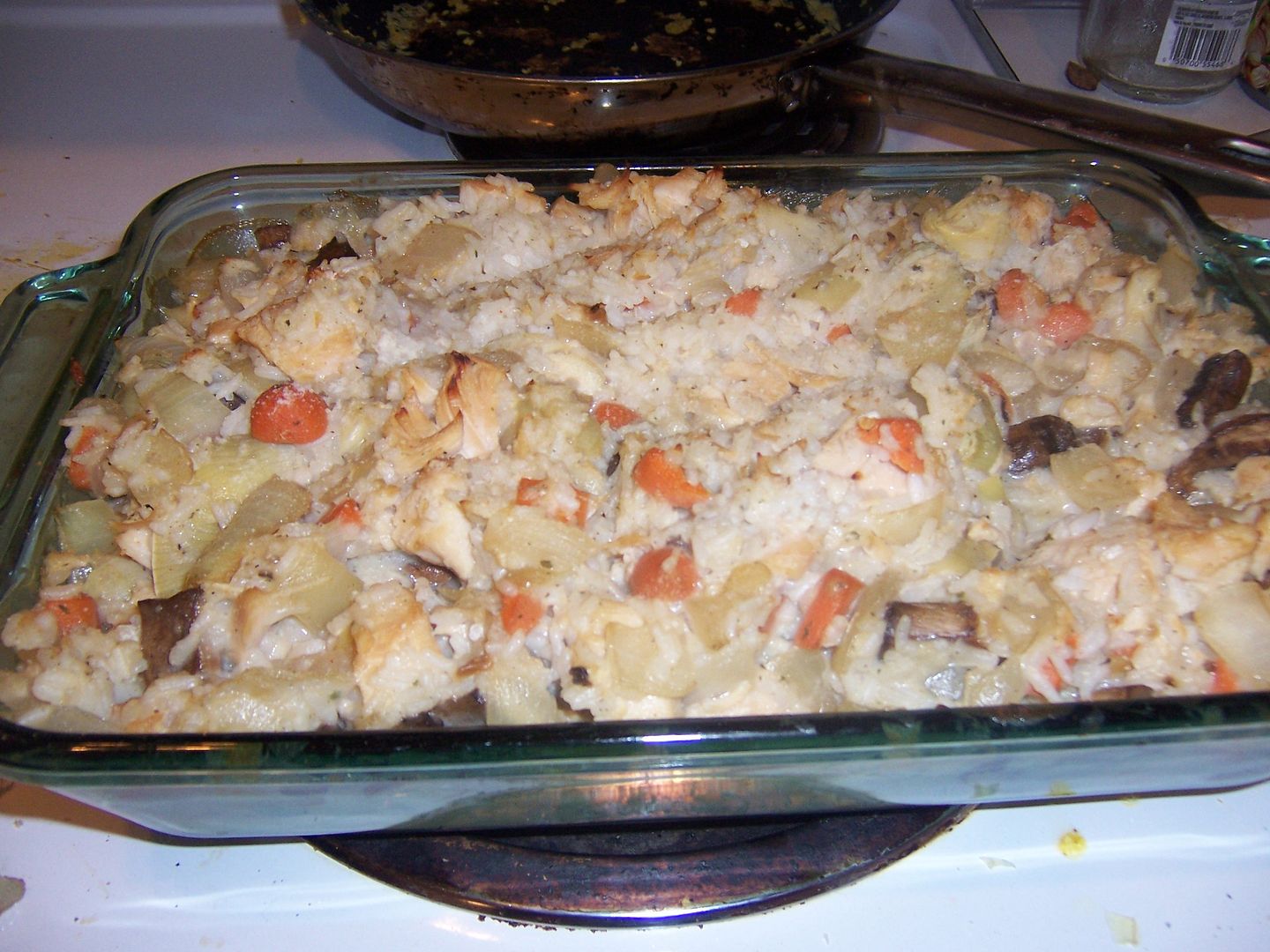 Unless you eat gluten-free. I have yet to find a "cream of" soup brand that is gluten-free which is a bummer! It definitely complicates things. So here's a great recipe that freezes well and is gluten-free! And for my gluten-eating readers, this recipe is still nice if you don't have a can of cream of something in the cupboard. You just use regular flour instead of rice!
Chicken and Rice Casserole
(makes two batches, if you just want to make one, half everything)
4 cups instant rice
4 cans of chicken, drained (or if you're fancy, several cups of chicken breasts, chopped into 1/2 inch cubes, cooked and set aside)
3 big cans of artichoke hearts, drained (marinated or not)
2 Tbsp butter
16 oz of mushrooms (I use two of those pre packed containers)
1-2 cups of baby carrots (or normal), chopped
1 onion, chopped
3 Tbsp of flour (wheat or rice if you are gluten-free!)
1 cup chicken broth
2 cups milk
1/4 tsp salt
1/2 tsp pepper
1/2 tsp dried parsley, crushed
1/4 tsp ground red pepper/cayenne pepper (if you like a little heat)
1. Preheat oven to 400 degrees.
2. Follow the directions on the instant rice box and make 4 cups of rice in the microwave.
3. In a large mixing bowl, put in artichoke hearts and canned chicken (or real chicken) and set aside.
4. Heat a tiny bit of oil in a large saucepan over medium-heat. Once warm, put onions, mushrooms and carrots into pan. Saute until tender.
5. I push all the vegetables to one side, put the butter in the pan, melt it, put the flour on the butter, then stir it until the vegetables are coated. Pour in the milk and chicken broth. Add in parsley, salt, pepper, and red pepper. Keep cooking until the sauce is thickened.
6. Once rice is cooked, dump it into the large mixing bowl with the chicken and artichoke hearts. Pour the saucepan with the sauce and vegetables. Stir, then pour into two casserole dishes. Cover one dish and put into the freezer. Take the other dish and put it into the oven for 15 minutes.***
***Some people love crispy toppings like bread crumbs. We sometimes sprinkle dried Parmesan cheese on top before we stick it in the oven. It creates a nice crispy crust.