Broccoli Cheese Soup
One 32 oz bag of broccoli cuts (you can use fresh, but the frozen stuff is cheaper and faster!)
1/2 onion, chopped
4 cups of chicken broth
4 Tbsp butter
3 Tbsp flour (gluten-free folks, we use rice flour)
1/4 tsp salt
1/4 tsp pepper
20 oz of Velveeta (or more or less depending on how cheesy you like it, 20 oz is a medium cheesy version)**
2 cups milk (we use 2%, whole milk would definitely be creamier)
1. Steam (or boil) entire bag of broccoli. You want it really tender so you can puree it later. Boiling took about 10 minutes, steaming is about the same. Once tender, drain well.
2. Put 2/3 of the broccoli (about 6-7 cups) in a food processor with 1 cup of chicken broth. Puree until smooth. Set aside.
3. In a big stockpot, melt 2 Tbsp. butter. Add onions. Saute until onions are soft. Add remaining 2 Tbsp. of butter, flour, salt and pepper and stir a few times, then pour in the milk. Cook and stir until it is slightly thickened.
4. Add the pureed broccoli, the rest of the whole broccoli, and remaining 3 cups of chicken broth. Cube up the Velveeta and put it in the pot. Cook and stir until cheese is melted (about 5 minutes).
5. Serve with sour cream or cheese on top!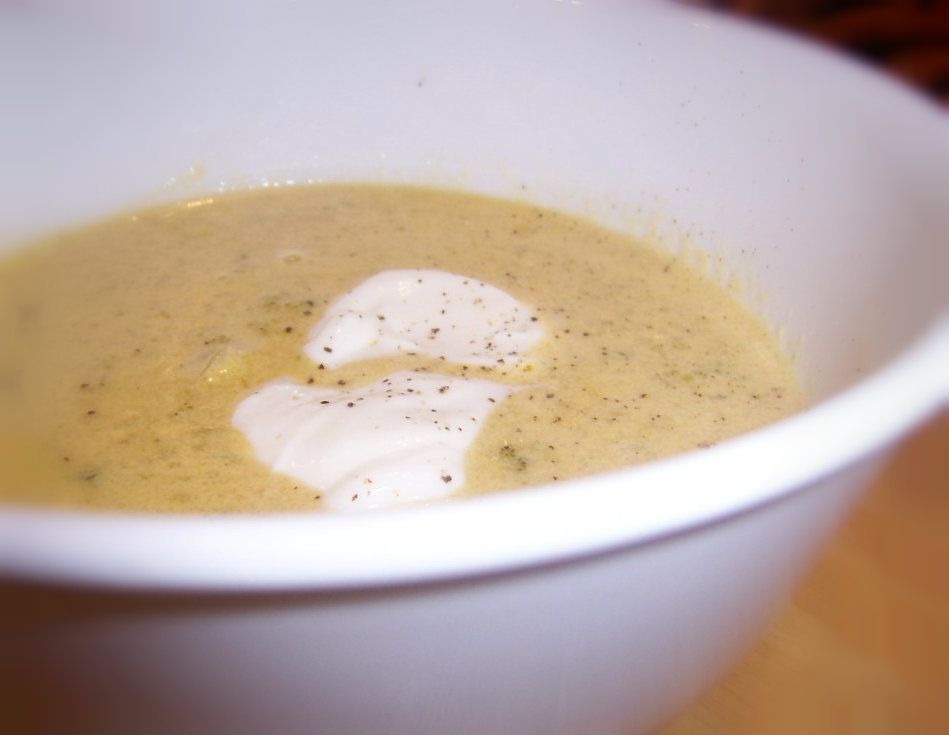 I served half of it to my family, then froze the other half in a gallon Ziploc bag. Easy, quick and about $10 for the entire pot. To cook later, simply put the bag of soup in your fridge overnight to thaw, then reheat in a pot! Yum!
**Velveeta? Really? Actually Velveeta is great because a) it melts easily and b) I was surprised to see it has almost half the fat and about 35 calories less than a comparable serving of cheddar cheese!