I LOVE cheesecake in all forms and pumpkin cheesecake is towards the top of my list! Here is a simple, yet rich and creamy version of pumpkin cheesecake just in time for Christmas. I've included two variations, the gluten-free variation and the gluten-y variation with a crust.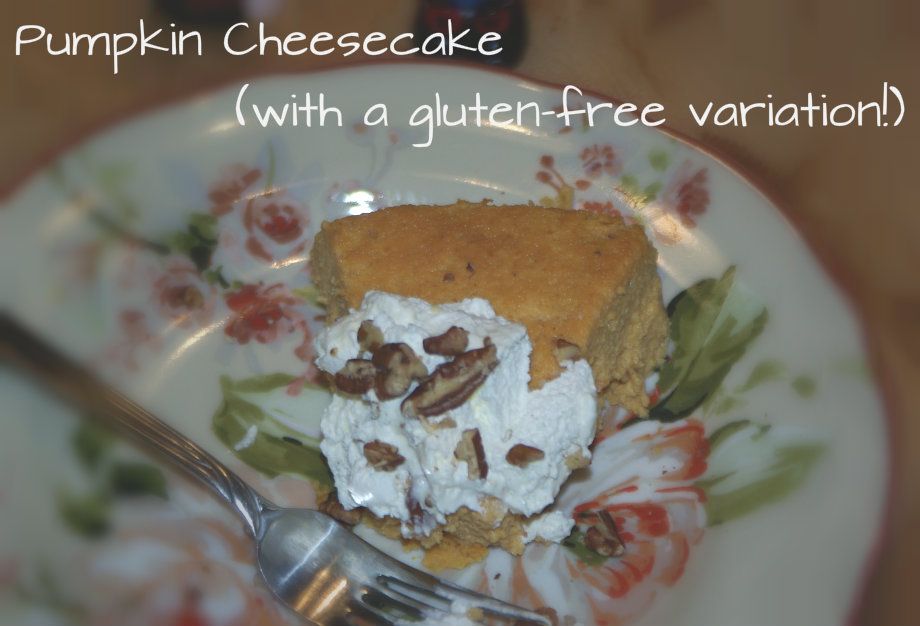 3 (8-ounce) packages cream cheese, at room temperature
1 (15-oz) can pureed pumpkin
3 eggs plus 1 egg yolk
1/2 c. Greek Yogurt (I used vanilla-flavored, but plain would work too)
1 c. sugar
1/2 tsp. ground cinnamon
1/8 tsp. fresh ground nutmeg
1/8 tsp. ground cloves
1 Tbsp. tapioca flour
1 Tbsp. rice flour
1 tsp. vanilla extract
Topping:
1/2 c. pecans, chopped
3 Tbsp. brown sugar
pinch of cinnamon
1. Preheat oven to 350 degrees.
2. Beat cream cheese until smooth. Add pumpkin puree, eggs, egg yolk, Greek Yogurt, sugar and spices. Add flour and vanilla. Beat together on medium-high or by hand until well combined.
3. Lightly spray pie pan with cooking spray and pour filling into pan. Spread out evenly and place in oven for 1 hour.
4. Put pecans on a cookie sheet and sprinkle brown sugar and cinnamon over the top. Bake in the oven (along with the cheesecake) for a few minutes until toasted. Pull out of oven and set aside.
5. Remove the cheesecake from the oven (after 1 hour) and let sit for 15 minutes. Cover with plastic wrap and refrigerate for 4 hours.
6. Before serving, put a dollop of cool whip or whipped cream on slice of cheesecake and lightly sprinkle pecans on top.
Follow all directions, except for:
Pour filling into a premade graham cracker crust, instead of directly into pie pan.
Use 2 Tbsp. all-purpose flour instead of rice and tapioca flour.