Growing up in California, I was blessed to be able to eat lots of different types of ethnic foods. Now that I'm a mom, I try to introduce my children to as many unique foods as possible (my 4-year-old daughter's eaten squid and her favorite food is sushi!). So when my husband asked if we could do something different for Christmas dinner, I jumped at the idea. We brainstormed picking a different country's cuisine and making a full meal of different and new dishes. Great idea, right? It took a while to nail down a country's cuisine since we eat gluten-free and it can be tough to find lots of ethnic, wheat-free dishes!
We do eat a lot of Thai food (almost no wheat) and Indian food (very little wheat) when we go out and we've always wanted to make Indian food from scratch. So we found three incredible recipes and made this gorgeous feast: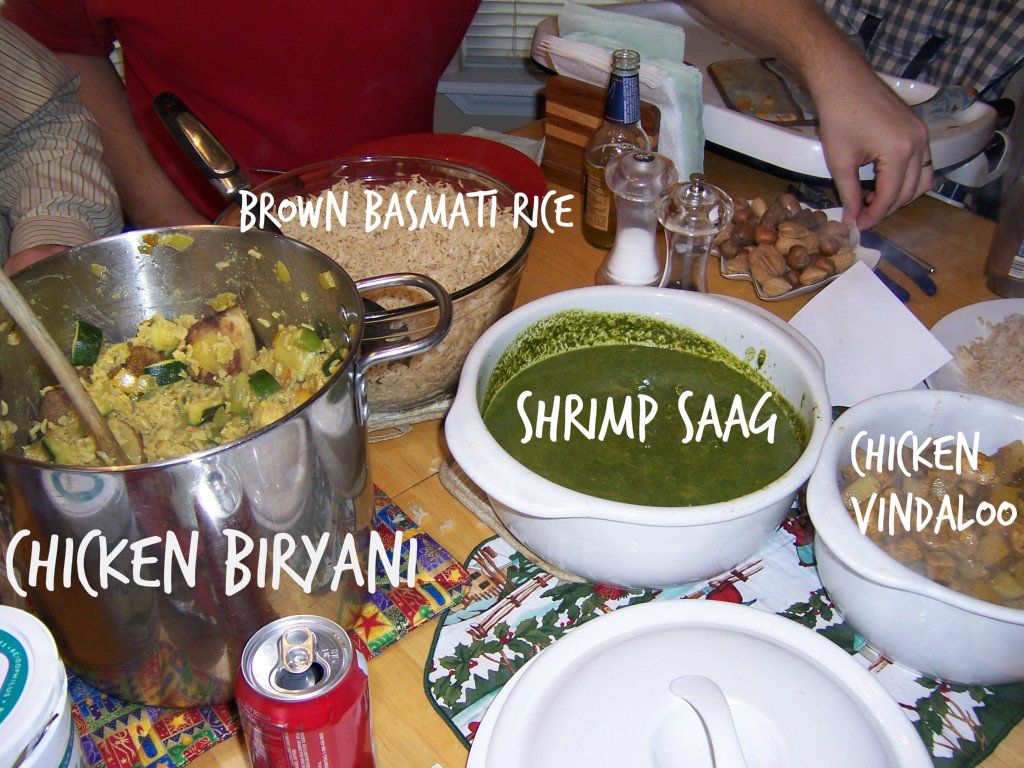 Instead of publishing one of my own recipes, I'm including the links to the three great recipes I used!
Find the chicken biryani recipe
here
. The only change I made was I added two chopped bell peppers to make it more veggie-intensive and used one less onion than it called for.
Find the chicken saag recipe (an amazing creamy, spinach dish)
here
. We used shrimp instead of chicken and substituted ground cardamom for cardamom pods.
Find the chicken vindaloo (spicy!!) recipe
here
. We used fresh tomatoes instead of crushed tomatoes, but it's a super tasty (spicy!!) recipe!
Everything was gluten-free. Unfortunately, our dessert of apple pie and gluten-free Christmas cookies wasn't super authentic, but it was still yummy...