Now that we are a family of four, I've noticed that we blow through laundry detergent like it's going out of style. This is a huge bummer because laundry detergent is expensive! I had initially resisted making my own laundry detergent because I had bought into the idea that making homemade would never be as efficient as the store-bought stuff.
I was so wrong. The detergent is equally as effective. The only difference I have to make is putting the detergent in the
bottom
of the washing machine before I put the clothes in (versus pouring it on top of the clothes once they're in the washer). And once I calculated the cost (it costs a whoppin'
one cent
per load), I was hooked.
I also love that making it up front is cheap (about $10 for the first batch, then $2-5 for subsequent batches) and lasts for months and months. I am just finishing up the original batch I made on October 13th! Wow!
We used to purchase All Free and Clear which was about $.11 a load, so dropping that to a penny a load is great. Also, because I only have to make it three times a year, I'm not always sending my husband to the store to pick up more laundry detergent.
So here you go!
1/2 bar of Fels Naptha Bar Soap
1 cup of Borax
1 cup of Washing Soda
A big stock pot, big spoon, several gallon jugs (this recipe made a little over 4 gallons)
1. Grate half of the bar of soap. You can set aside the rest and use it later.
It's not cheese...just soap.
2. Put the soap in a giant (I mean, GIANT) stockpot and pour in one gallon of water.
3. Cook until the soap is dissolved. This took about 10 minutes. Add in 1 cup of Borax and 1 cup of washing soda.
4. Bring to a boil (about five minutes), then turn off the heat. Add 1 1/2 gallons of cold water.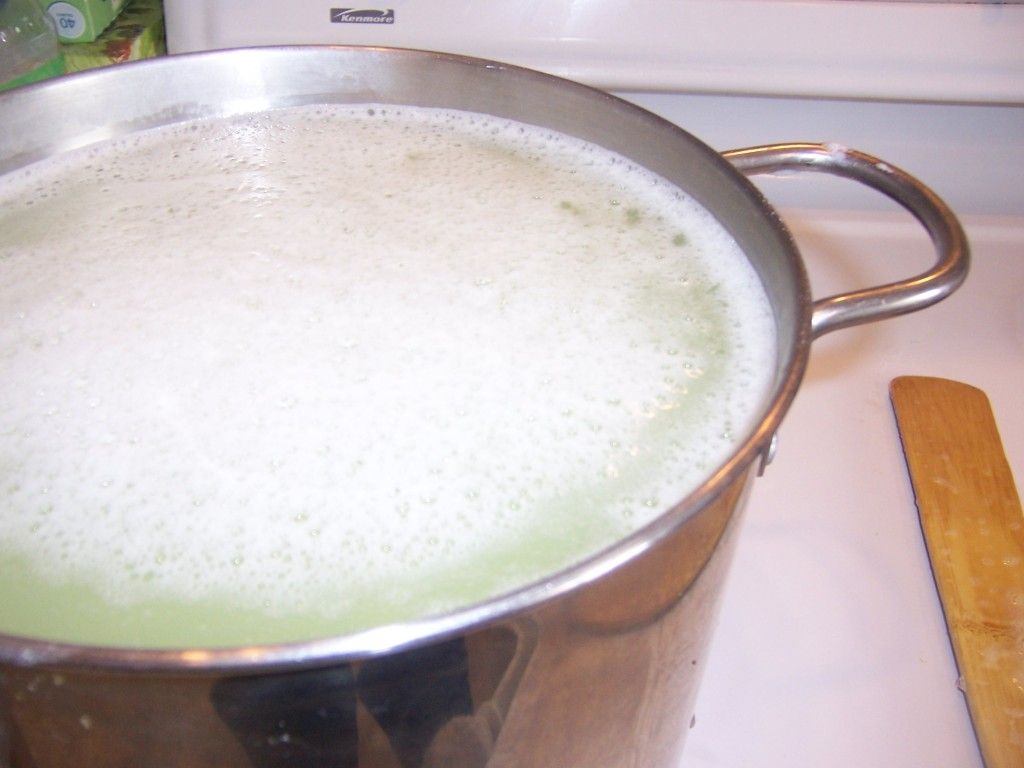 Seriously folks. Use a BIG stockpot.
5. Set your containers in the sink and using a funnel, fill them with the detergent. You can use milk jugs, but me and Jessica really like using the giant vinegar containers. The plastic is thicker and sturdier and you can reuse it over and over, whereas the milk jugs definitely start to break down. You can also save your store-bought detergent container and refill it (*ahem* I won't tell the company you did that).
The detergent is really liquid-y when its warm. It doesn't congeal until it cools, so don't freak out if its super thin at first.
That's a lot of detergent.
Every few loads, I shake the container SUPER good, then use about 1/4 or 1/3 cup per load. And four months later, I
still
have part of a gallon left after two kids, a husband, two dogs and a cat's worth of laundry (we wash the pet blankets so they are part of my laundry cycle).
Enjoy!
~ Hilary